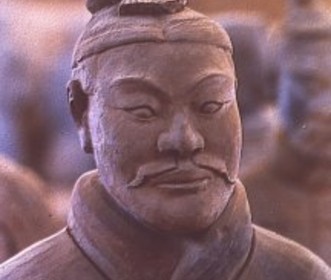 Terracotta Warriors Museum
The Terracotta Warriors Museum in Dorchester, Dorset, is one of the only museums outside China exclusively dedicated to the amazing Terracotta Warriors. All the terracotta warriors displayed in the museum have been specially made for exhibition by the technicians of the Lintong Museum Cultural Relic Workshop, Xian, China, as well as workshops of the China National Arts & Crafts Corporation, Xian. Other terracotta warriors were specially created for the display in the museum workshops of World Heritage as were the costumed figures of the First Emperor and General Meng Tian together with the reconstructions of the armour, weapons and costumes.
The discovery of the terracotta warriors has gripped the imagination of people around the world. Those who have been fortunate to make the journey to the site at Xian in Shaanxi Province will never forget the experience. An experience which is now open to all who visit the museum.
Complementing the display of terracotta warriors is the imposing costumed figure Qin Shi Huang di - the first emperor of China with General Meng Tian. Both are in full costume and accompanied by other examples of recreated costume and armour representative of what would have been worn by the Royal Guard. In addition to this a reconstruction of part of an excavation scene shows a small section of one of the pits giving an idea how the figures were gradually unearthed from the soil. A journey through Chinese history illustrated with antiquities covering two millennia takes the visitor back to the time of Qin Shi Huang di. Multimedia and audio presentations inform and entertain. There is also an Advance Guard of half-size terracotta warriors representative of the many different types of the terracotta army.
The displays have been specially designed and created to tell the story of the terracotta warriors and their discovery, and to give a glimpse of the China of 2200 years ago. Some of the Warriors in the Museum have previously been displayed in major exhibitions in Edinburgh, London, Hampton Court and Jersey.
Buy Tickets
Adult £5.99
Senior £4.99
Student £4.99
Children £3.99
Family (2ad 2ch) £17.99
Children under 5 go free

Open Daily

April to September 10am to 5pm

October to March 10am to 4pm

Closed 13th to 26th December inclusive.
What's On at Terracotta Warriors Museum
Copyright © 2019 Attractions Network | Powered by DigiTickets
Advertise With Us