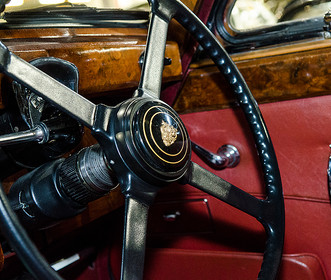 Haynes International Motor Museum
It was John Haynes' love of motoring and business which formed the essence of the hugely successful Haynes Publishing Group. A collector of cars and most things related to them, John's ambition to create his own Museum was perhaps inevitable. With limited storage of his own, and beginning to lose track of where they all were, he soon began to seek out a suitable building to house his cars.
The new home for John's ever-increasing collection was, of all places, the remains of a Second World War American munitions dump in Sparkford, Somerset. The site was ideal; not only would the collection be available to the public in one place but, by gaining the status of a UK independent charitable trust, its future would be also protected.
The Museum was opened on 10 July 1985 by the then Land Speed Record holder Richard Noble OBE. Since then, the collection's international theme expanded as vehicles from around the globe were acquired increasing numbers from a humble 29 to nearly 400 in 30 years; an amazing feat by anyone's standards.
Preservation by operation is key to the care of the collection; cars and motorcycles are made to be driven after all. At special visitor events, an interesting and eclectic range of cars and motorcycles are put on the Test Circuit for the enjoyment of visitors. Senses are truly engaged as one not only sees the cars and bikes but they can also be heard, touched and smelt.
Buy Tickets
STANDARD TICKETS
Adult (Aged 16+ years) £14.50
Child (Aged 4 - 15 years) £9.00
Child (Under 4 years) FREE
DISCOUNTED TICKETS
Concessions £13.50
Disabled Child (Aged 4-15 years) £7.00
Family A (1 Adult & 1 Child) £21.50
Family B (2 Adults & 3 Children) £48.50
GROUP RATES (OVER 15 PEOPLE)
Adult (Aged 16+ years) £12.50
Child (Aged 4 - 15 years) £7.00
2nd March to 28th October
Monday - Sunday
09:30 - 17:30

29th October to 1st March
Monday - Sunday
09:30 - 16:30

The Museum is open all day, every day (except 24th, 25th & 26th December and 1st January).
WHEELCHAIR AND DISABLED ACCESS
Excellent disabled access and facilities throughout the Museum and grounds.
WHEELCHAIR AND MOBILITY SCOOTER HIRE
Two mobility scooters and two wheelchairs for hire. Please contact to reserve these on 01963 440804.
BABY CHANGING
Baby changing facilities in the reception/foyer area and within the Museum.
PICNIC AREAS
Please note there are limited all weather facilities.
FUN FOR ALL THE FAMILY
Under 4s, 4-12 years old, Teenagers, Grandparents, South West Karting at Haynes.
CAR PARKING
There are dedicated parking bays in the car park for wheelchair users. Ample space including overflow, for larger vehicles (e.g. coaches and motorhomes – please follow the parking signs).
FIRST AID
Several first aid points across the site.
DOG WALKING AREA
Located on the field opposite the overflow car parking area to the rear of the building. Please help us to keep this area clean and safe for children to play by clearing up after your dog. Please note guide and assistance dogs are welcome into the Museum, unfortunately we do not allow pets into the Museum. Please remember to consider your dog when leaving them in your vehicle!
What's On at Haynes International Motor Museum
Copyright © 2021 Attractions Network | Powered by DigiTickets
Advertise With Us