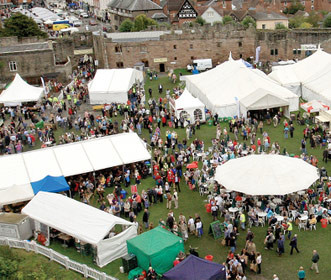 Ludlow Food Festival
From humble beginnings to the very best Food Festival in the country

Our Food and Drink Festival started in 1995 and it's grown and grown ever since - not just in terms of numbers of visitors and exhibitors and events, but also in terms of reputation throughout and beyond the United Kingdom.

Our objective has remained the same: we are celebrating the quality and diversity of the superb independent food and drink producers and suppliers that abound in Ludlow and the Marches. You won't find us promoting the globalised, standardised, industrially-produced products that you can find in every supermarket.

What you will find here is an abundance of REAL food and drink - from rare breeds of meat to real ale, cider and perry, produced and sold by people who really care about what they are doing.

And - you'll also find that our festival is great fun. There's a brilliant atmosphere throughout the weekend that you won't forget. There really is something for everyone, from gourmet to sausage fan to beer lover. Once you've tried it you'll come to Ludlow again and again!

We hope you have a great time in Ludlow and enjoy everything on offer at our festival, which was the original one of its kind in Britain.
Buy Tickets
Events outside the castle have their own times which are shown throughout the website.
The castle is open to the public as follows:
Friday 9th September: 10.00 am to 5.00 pm
Saturday 10th September: 10.00 am to 6.30 pm
Sunday 11th September: 10.00 am to 5.00 pm
Last admission 30 minutes before closing time.
What's On at Ludlow Food Festival
Copyright © 2023 Attractions Network | Powered by DigiTickets
Advertise With Us