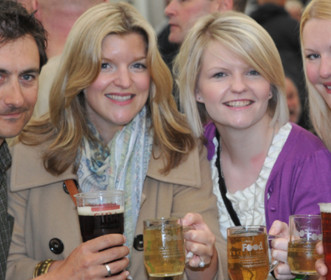 Ludlow Spring Festival
INSIDE LUDLOW CASTLE

FOOD GLORIOUS FOOD

Not just beer, bread and bangers, you will find plenty of stalls featuring top quality food and drink from small producers up and down the Marches, the Welsh border country. Products that have been produced on a small scale by people who really care that their food and drink should taste good, and be produced with care for the environment. You won't find big brands or supermarkets here!

BEER FESTIVAL - organised by SIBA (The Society of Indepedent Brewers Association) takes place inside the 'Festival Pub'. 180+ different real ales on draught (bottles too) from independent breweries from Wales and the border counties. Each brewer's entry will be part of the SIBA Wales & West Competition.

WINE, PERRY AND CIDER from local Marches producers, inside the 'Festival Pub'

TALKS AND DEMONSTRATIONS will take place in the Inner Bailey.

CHILDREN'S ACTIVITIES will take place in the Inner Bailey and will include making Welsh Cakes.

MUSIC will be a feature in the 'Festival Pub' and this year we have an AMAZING and varied lineup.

FESTIVAL PUB & GREAT MUSIC

When you arrive in the Outer Bailey, head for the large Festival Pub marquee where you can get your bearings, pick up your beer tokens, grab a pint or glass of wine and prepare yourself for a relaxing, fun-filled day. The Festival Pub is also the venue for live music and a focal point for the show. Cheers.

OVER THE WEEKEND - MARCHES TRANSPORT FESTIVAL

The Outer Bailey is also the place to see an impressive display of classic and vintage vehicles, some dating back to the early years of the last century. Gleaming bodywork, exceptional engines and enthusiastic owners will be the order of the day. Take your time to browse fine examples of motoring heritage and learn how vehicles have been lovingly restored by their owners.
Buy Tickets
Friday 13th May - Meet the brewer event 5-9pm
Saturday 14th May 10am - 9pm
Sunday 15th May 10am - 5pm
Last admission is 30 mins before closing time
What's On at Ludlow Spring Festival
Copyright © 2023 Attractions Network | Powered by DigiTickets
Advertise With Us